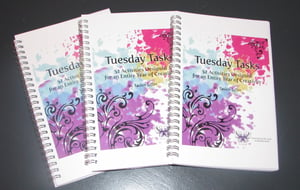 $

13.99
A motivational workbook, Tuesday Tasks is the first in a series based on Taslim's popular inspirational blog, Let ME Out!! Releasing Your Creative Self. It contains a myriad of exercises and wisdom to unblock your creative channels and connect you with your true Self who has much to offer this world!
As a mom of 3 young children, Taslim knows the challenges of time management, work/life balance and the deep desire for every individual to express themselves as they are truly meant to do. Born from her own struggles and aha! moments, this workbook – and the others in this series – is practical, engaging and useful for every Soul that wants to come out and play!
Being open creatively increases productivity in the workplace, happiness in relationships, personal satisfaction and a thrill for Life. If you need a boost, grab a book and start your journey to your creative Self now!