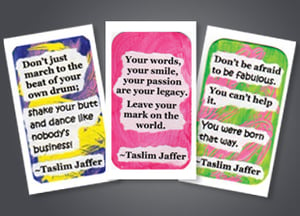 $

9.99
Do you like the idea of paying-it-forward with inspiration and hope? Then you will love Make-A-Wave cards! With an uplifting quote on one side, and a message to share the card on the other, these cards are a beautiful combination of art and social change.
You don't HAVE to give the card away; you may want to put it up for you to see every day, stash it in your journal or keep it in your car. You may find it's fun though, to leave it somewhere for a stranger to find (leave it on your table when you are done at the coffee shop, or slip it in the pages of a library book). Plus, these cards make great additions to gifts and greeting cards.
Designed with love, these cards want to make their way around the world!
Depending on availability, quotes include:
Don't just march to the beat of your own drum; shake your butt and dance like nobody's business!
Don't be afraid to be fabulous. You can't help it. You were born that way.
Beautiful = Be You To Full
The most brilliant paths are discovered when we least resist the winds that guide us.
Be grateful for your shadows, light and dark, as they are your compass for the life you are meant to love.
Be the change you wish to see in the world.
Your words, your smile, your passion are your legacy. Leave your mark on the world.
You were born knowing exactly what you were meant to do. You are here on purpose.
When was the last time you felt a part of something bigger? This card reminds you, you are.
Act on your passions; they will lead you to your purpose.
Shining gifts often come from dark moments. Find the glimmer of light and hold on.
Love your quirks; they are your platform for greatness!